If you're already BLS CPR certified, but your certification is close to expiration, then you must get it renewed. This is not only a necessity but a requirement for many occupations.
CPR recertification is now quite easy; although the term recertification is not technically correct anymore. The American Heart Association who creates the guidelines and training materials has mandated that recertification and initial certification education be the same.
Nevertheless, renewing your CPR card is now more straightforward with a blended learning course. It allows you to renew your skills, refresh your memory, and stay abreast with the latest lifesaving skills. After course completion, you will be CPR certified for an additional two years by the American Heart Association.
What is a Blended CPR Course?
One of the best ways to get started is to register in a blended learning course with a reliable and accredited AHA instructor. Through such a program, you can study online and then complete a hands-on session in person in your area that suits your schedule and needs.
Once you complete both parts of the program, you will receive an American Heart Association basic life support CPR certification card.
This certification card is generally for those in the medical fields and shows that you're competent in administering CPR and First Aid. It is comparable to classroom training predominantly because of the hand-on session.
Certification completed in two parts.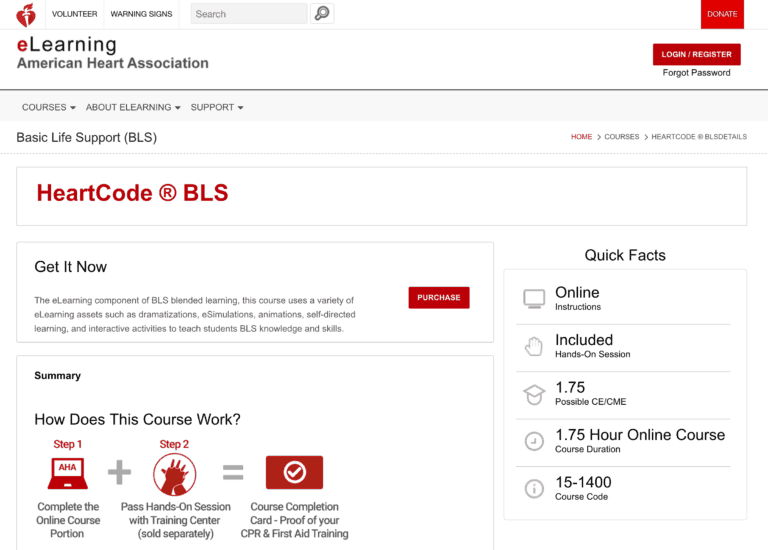 The AHA online training course uses the most advanced e-simulation technology, thereby enabling students to assess as well as treat patients in a virtual setup. It teaches skills through e-learning assets like dramatization, self-directed learning, interactive activities, and animation, to name a few.
Some of the fantastic benefits of online certification training are that:
You can study at your own pace online
You don't need to buy a BLS course manual as all the material is available online on your device
It is time-saving as you can take the course from anywhere at any time even when you're on the go
Once you finish the online course, you will practice your skills and get tested by an AHA CPR instructor. After you've tested out of the online program of the course, then you can move on to the second part, which is the hands-on session.
Step two: 
Hands-on session is sold separately, and you can enroll with ABC Health & Safety Training to finish. As the name suggests, in a hands-on session, you will demonstrate what you have learned in the online training with an instructor one-on-one. This instructor course focuses on debriefing, meaningful skill practice, and skills testing.
To proceed with this course, print out your online HeartCode BLS completion certification. Then schedule a convenient time for final certification through hands-on session webpage. Once you complete both portions of the CPR renewal course, you will get two year AHA certification via email from the American Heart Association.
After course completion, you will be able to:
Describe and understand all steps of the chain of survival and apply them
Perform CPR on children, infants, and adults
Understand the importance of early use of AED
Use a barrier device to provide quality ventilation
Understand the importance of team dynamics and successfully perform as a team member in multi-rescuer CPR
So, what are you waiting for? Get your CPR and First Aid certification renewed now.
Not only is CPR certification renewal required for many occupations, but it also enables you to stay up-to-date with the new and latest techniques in this area. By renewing your certification after every two years, you'll be able to learn about the new developments in CPR and continue to upgrade your skills.